AGRICULTURAL LAND IN SERBIA
CURRENT PRICES AND FUTURE TRENDS

There has been a significant increase of the price of agricultural land in Serbia in the last few years. Some invest in farmland as a means of production because they are engaged in agriculture while the others are speculative investors who invest in a low-risk high yield asset class for the reasons further explained in this article.
One of the main economic and export potentials of Serbia is the production and export of food. Serbia has a mild continental climate, quality land and excellent other conditions for food production and export. In the last ten years, primary and secondary food production has been recovering from the disastrous effects of the Sanctions years and growing continuously. In the last two years, the growth of Serbian agricultural exports has increased by 50%. In 2020, the value of food exports was US$4,2 billion
After more than 30 years, Serbia has resumed food exports to the UAE, Bahrain, India and China. It is certain that during 2021, this trend will continue and that new markets such as Vietnam and Indonesia will be opened. With the announced investments in transport infrastructure - river, railway and air and multi-modal transshipment capacities for container and bulk cargo, the export of agricultural and food products from Serbia will be not only easier but also cheaper.
All this has led to increased interest in investments in agriculture and increased demand for agricultural land. Increased demand has led to a continuous rise in the price of this asset class.
Prices of agricultural land

According to the 2020 Annual report of the Republic Geodetic Authority (RGA) about the prices of various real asset classes, the average growth of farmland prices in the previous 3 years was 6-10%.
The average price of agricultural land in Serbia in 2020 was € 6,600 per hectare. The most expensive is agricultural land near large cities. Thus, transaction prices of € 1.1 million per hectare were registered in Petrovaradin near Novi Sad and in Šimanovci near Belgrade. These are extreme values for smaller plots that are strategically located next to some industrial capacities, are infrastructurally equipped and with good road infrastructure. and it will likely be converted into industrial land.
However, ordinary arable land throughout Serbia is also experiencing a steady price growth trend. According to RGA data, the prices of agricultural land are constantly rising with price range from several hundred Euros per hectare to several tens of thousands of Euros per hectare. In 2020. minimum and maxim prices in various parts of Serbia are set out below.

Sumadija and Western Serbia - €700 to €16.050
Macva District - €700 to 16.050
Belgrade District - €1.000 to €20.300
Srem district - €1.500 to €27.500
South Banat District - €950 to €17.900
West Backa, Middle Banat, North Banat and Backa districts - €1.000 to €18.900
Southern and Eastern Serbia - €400 to €13.750
South Bačka District - €1.900 to €27.900
The highest prices of agricultural land are in Vojvodina, where the best conditions for large-scale agricultural are located. The table above shows the average land prices and the total value of agricultural land transactions in Vojvodina published by the RGA. Farmland prices will continue to rise in the coming years for at least 4 reasons:
agricultural land is a limited resource
food prices will continue to rise, which in turn puts upward pressure on farmland prices
both institutional and private investors are investing in farmland and
China's food import is increasing every year.
1. Agricultural land is a limited resource
There is about 5 million hectares of agricultural land in Serbia, of which about 3.3 million hectares are currently used. The percentage of land that is being used is growing, and consequently the area of agricultural land that is not being used is decreasing. The situation is similar in many other agricultural areas in the world, which all lead to price hike of agricultural land in other countries as well.
An increasing number of start-ups are emerging with production of high-quality food, popularly called "homemade" or organic food. Serbian large agricultural and food companies such as Matijevic Agrar, Delta Agrar or MK Komerc are also increasing their holdings to increase production, reduce costs and make better use of their existing production capacities. Financial investors invest for speculative reasons, they generate income from either sale of agricultural products, rent and from price appreciation of the agricultural land.
2. Rising food prices in Serbia and globally
Another factor that affects the growth of farmland is the continuous growth of the of food and livestock feed prices. Local and international media headlines these days: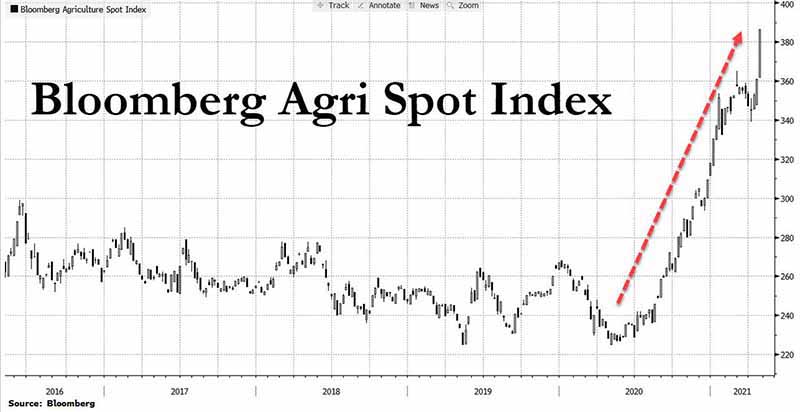 "Prices: A ton of wheat reached €245, oilseed rape €485
The main causes are high demand from China, Russian customs, La Nina, the cold weather spell in the US and cold weather damage to crops in Russia, but also the Covid crisis because of which everyone wants to secure supplies.
Every time analysts expect grain prices to start falling the opposite happens. It is believed that the main reasons for this are the high demand from China, Russian customs, South American La Nina, crop failure in the US due to the ice wave, but also the Covid crisis. Traders are also reporting possible damage from the cold weather in some parts of Russia.
Thus, their prices on the Paris futures market rose to the highest levels in recent years. Namely, European wheat was traded €245 per ton, and such price has not been recorded since May 2013. The futures prices for the new harvest increased to €203 per tonne. In just one week, the wheat price has risen by 7%, corn by more than 4%, reports allaboutfeed."
On 12th February 2021 the Financial Times published "Food inflation concerns deepens as prices reach highest level since 2014". Agricultural commodities prices continue to rise unabated on mercantile exchanges throughout the world. The prices keep rising on the Mercantile Exchange Novi Sad.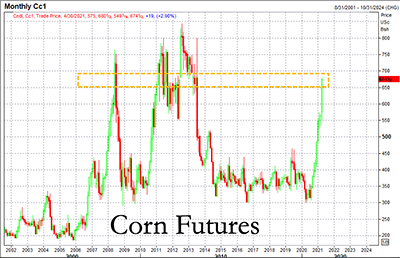 Report from the Mercantile Exchange Novi Sad for the period 26-29/04/2021
"Corn was quantitatively the dominant crop in trade with a total turnover of 4,100 tons. The price rise on the international market at the beginning of the week is one of the factors that influenced the movement of prices on the domestic market. The mercantile exchange contracts at FCA parity were concluded in the price range from RSD25,00-26,00/kg without VAT. The weighted average price was RSD25,44 (US$0,2626, €0,2164)/kg without VAT, which is an increase of 5,45% compared to the previous week. The futures contract for corn in 2021 at the parity of FCA South Bačka was concluded at a price of €179/ton with deliveries from 01/10. to 11/15/2021.
Wheat has maintained a stable price level. The mercantile exchange contract was concluded at a price of RSD 24,00 (US$ 0,2478, €0,2041)/kg without VAT, which is also this week's weighted average price."
The tables below show historical prices of what and corn on the Mercantile Exchange Novi Sad.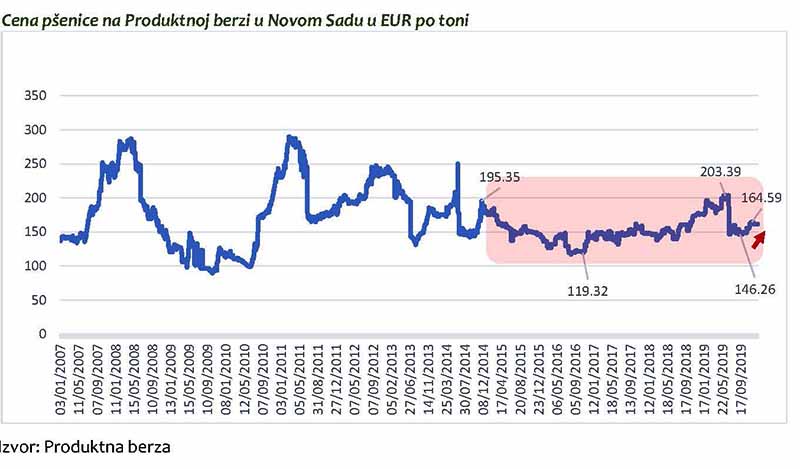 3. Wall of institutional and private money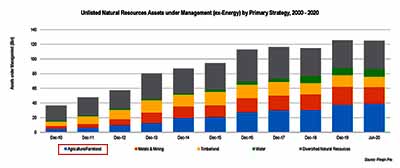 Rising agricultural land prices have also attracted large institutional investors. The table below (source: Preqin) shows the value of investments in natural resources over the past 10 years in billions of US dollars. The blue colour on the chart represents investments in agricultural land. For that reason, the price of agricultural land worldwide has a similar growth rate as in Serbia. Given the low interest rates, investing in assets that appreciates at a rate of 8-10% per annum represents a very attractive investment potential.
Some individual investors also got involved. Thus, Bill and Melinda Gates invested part of their wealth in agricultural land, so that they became one of the largest private landowners in the US with about 242.000 hectares in their ownership.
4. Factor China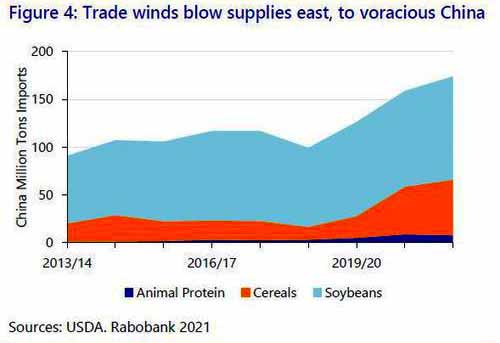 One of the significant factors that increase the food and livestock feed prices is China's growing demand for agricultural products. China's imports are shown on the chart on the right.
The high demand for corn on the Chinese market has led to a price hike of this product (chart left). In 2020, China imported about 18 million tons of corn, in 2021 it is expected to import about 26 million tons. Pete Meyer, chief analyst at S&P World Platts, estimates that Chinese imports will stabilize at around 30-32 million tons a year, and Michael Magdovitz, an analyst at Rabobanka, estimates that China will continue to import such quantities by 2030.
Serbia-China Protocols for agricultural products exports to China
The main exporter of agricultural products to China was the United States. Due to the trade war and the deterioration of political relations between China and the United States, China began to diversify its imports of food and animal feed from other countries.
On February 4, 2021, Serbia and China signed several Protocols on the conditions for the export of corn and dried sugar beet noodles to China. On that occasion, Vukosav Saković from the Business Association "Serbia Grains" stated: "This Protocols have removed all administrative obstacles for export of our corn on the Chinese market. That is very important for Serbia because the demand for our corn is increasing significantly, which will ultimately have a positive effect on the export prices local producers will achieve on the international market. " He explained that more serious export of corn to China can be expected only from the new harvest in the fall, because the available quantities of those goods for export, which according to the data of the Ministry of Agriculture are about 3.8 million tons, have already been pre-sold several months in advance.
Conclusion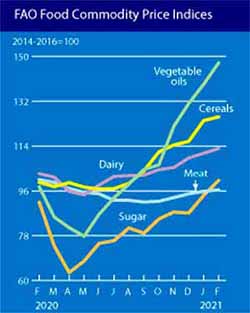 All cited sources - RGA, UN Food and Agriculture Organization (FAO), US Department of Agriculture (USDA), Rabobanka, S&P World Platts indicate that food and feed prices will continue to rise as well as agricultural land prices. Investors who want to diversify their investment portfolio could consider including agricultural land in that portfolio if they have not already done so.
Please consider our offer of an excellent Serbian agricultural company with contigous aggregation of 435ha farmland in Vojvodina.