SALE OF A FARMING COMPANY IN SERBIA
WITH CONTIGUOUS AGGREGATION OF 432 HECTARES OF FARMLAND


The price of agricultural land in Serbia is growing by 6-10% per year (transaction prices published by the Republic Geodetic Authority RGA, the Serbian Land Registry. The demand for it is on the increase by both local and foreign investors. It is regarded as an asset class in its own rights by both, the financial speculative investors and by those who use it as a means of production (agricultural companies).
World food prices are rising and will continue this trend in the next decades, according to research by many world analysts. In Serbia, the price of corn last year was 16 dinars per kilogram, now it is sold for 28-32 dinars. Wheat reached a record price of 26 dinars per kilogram in free sale. The price of soybeans has increased by 100% in the previous 12 months. The movement of these prices has been commented on for a long time in the domestic and world media and institutions:
On the other hand, the amount of subsidies, loans and grants available to farming companies in Serbia is increasing:
One of the main economic and export potentials of Serbia is the production and export of food. Serbia has a mild continental climate, quality land and excellent other conditions for food production and export. In the last ten years, primary and secondary food production has been recovering from the disastrous effects of the Sanctions years and growing continuously. In the last two years, the growth of Serbian agricultural exports has increased by 50%. In 2020, the value of food exports was US$4.2 billion.
After more than 30 years, Serbia has resumed food exports to the UAE, Bahrain, India and China. It is certain that during 2021, this trend will continue and that new markets such as Vietnam and Indonesia will be opened. With the announced investments in transport infrastructure - river, railway and air and multi-modal transshipment capacities for container and bulk cargo, the export of agricultural and food products from Serbia will be not only easier but also cheaper.
On February 4, 2021, Serbia and China signed several Protocols on the conditions for the export of corn and dried sugar beet noodles to China. On that occasion, Vukosav Saković from the Business Association "Serbia Grains" stated: "This Protocols have removed all administrative obstacles export of Serbian corn on the Chinese market. That is very important for Serbia, because the demand for our corn is increasing significantly, which will ultimately have a positive effect on the export prices the local producers will achieve on the international markets."
The agricultural land, particularly in Vojvodina is of high quality but much cheaper than in other European countries. The price will continue to rise for several fundamental reasons which we explain in detail in our analysis "Agricultural land in Serbia-prices and trends" . We highly recommend reading that analysis to fully comprehend and appreciate this offer.
We offer a modern and well organised production farm located in Vojvodina, Serbia with contiguous aggregation of 435 hectares of farmland. Such large single piece of farmland (contiguous aggregation) is a rarity and has many advantages over non-contiguous farmland aggregation. The agricultural land is of high quality, there is a system of drainage and irrigation canals as well as an irrigation system, agricultural machinery and equipment and other assets. Part of the farmland is leased to a local farming company and the rest is cultivated by the company. That remaining part can also be leased to the same or another tenant so that the new owner will have two sources of income a) from the lease income and b) from the price increase of agricultural land. Exit from this investment should be relatively easy because agricultural land prices are rising since the farmland is increasingly sought-after asset.
Location and infrastructure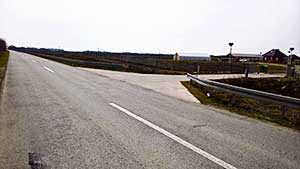 Location - Vojvodina, Serbia, 30 minutes from Belgrade Airport, 50 minutes from the centre of Belgrade, near the Belgrade-Zagreb highway (E70). Due to its good location and excellent transport links, it can be used for production (field crops, orchards, early vegetables in greenhouses heated by thermal water), storage (silos for grains, cold storages for food, vegetables and meat), processing and distribution.
Infrastructure-there is an excellent asphalt road leading to the Farm. There are two river ports nearby, one on the Sava River, the other on the Danube and transshipment railway junctions for exporting products to the EU or via the ports of Constanta and Rotterdam to China and other overseas buyers.
The port operator of the Port of Novi Sad, DP World Dubai, UAE announced new investments in this port to increase traffic and facilitate grain and other cargo export from Serbia. The company plans to build a vertical quay, grain silo, container terminal and reconstruction of the existing warehouses.
Assets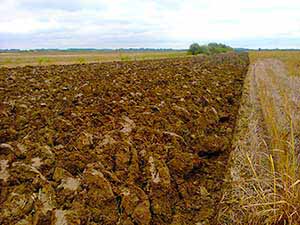 The farm is organised in 3 distinct parts:
Farmland for field crops on 405 hectares
Orchard on 21 hectares
Commercial and administrative part on 6 hectares
The farmland is ideal for growing field crops, vegetables and fruit. Such composition of farmland significantly facilitates the introduction of modern agro-technical measures — from monitoring and control of crops by drones to the use of "autonomous" machines that already exist — sprayers, seeders, tillage machines, etc... This leads to increased productivity, reduced costs, more efficient resource management, increased food quality but also environmental protection. Digitization of agriculture is inevitable, it is "smart agriculture"".
This agricultural season the company has sown 65 ha of wheat and 22 ha of corn. In previous years, the average yield from these field crops was 6t/ha of wheat and 7t/ha of corn. A part of the land is used as pastures for grazing and hay production (hayfields). 306 hectares of the farmland is leased to a local farming company. All parts of the farmland can be easily accessed by agricultural machinery and equipment as well as by a SUV or similar off-road passenger vehicle.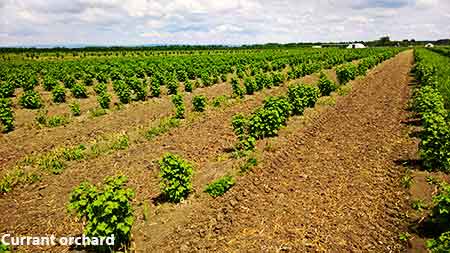 The orchard has been planted in 2018-2020 with 24.300 fruit trees of blackcurrant, 3.298 fruit trees of hazelnut and 3.920 fruit trees of quince.
The commercial and administrative buildings-are located at the entrance of the farm. Some commercial facilities are erected and functional the others are planned and left to the next owners to decide what other buildings and facilities they will need to erect. All buildings, erected and planned, have planning permissions. The profitability of the company will be enhanced by construction of a grain silo, cold storage and a processing plant, which are all planned.
The employees quoter is adjacent to the repair and maintenance workshop. The management quoter with a meeting room is a separate building with a gazebo in front of it. All commercial and administrative buildings are equipped with a security alarm and cameras connected to a local security company.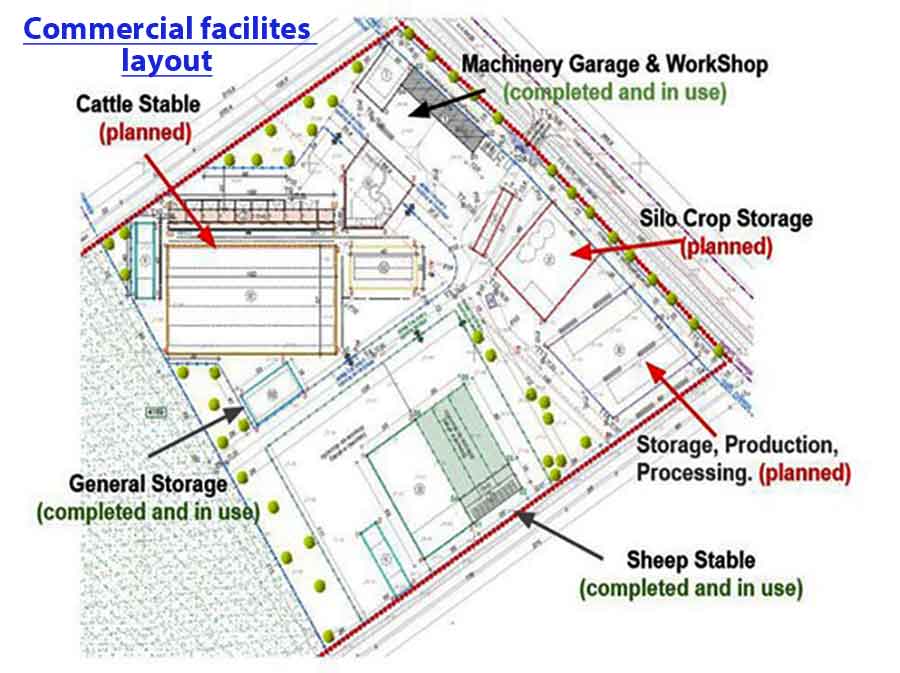 Machinery and equipment the company has various agricultural machinery and equipment for farming, livestock keeping and fruit growing. The list assets is given in the table below. The hangar with a part of agricultural machinery is pictured.
Other assets and benefits are set out in the table below. A sheepfold with a flock of sheep is pictured.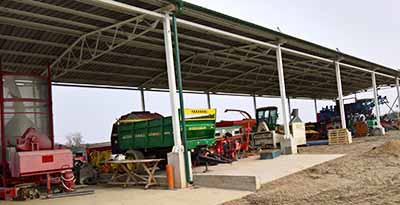 Irrigation system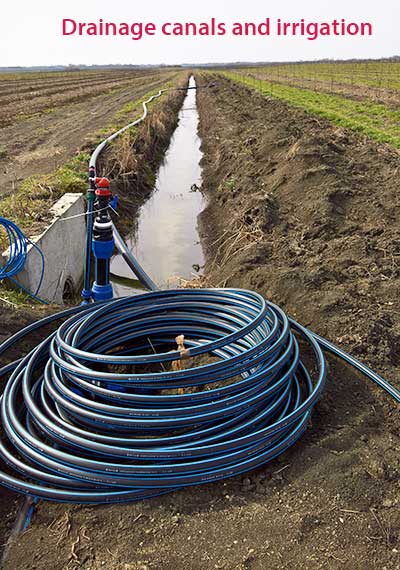 In 2020 the company commenced installation of the "drip" irrigation system for irrigating orchards, which will be completed in May 2021. All installation materials and equipment have been procured, a well with quality water for orchard irrigation has been dug and is ready for use. In addition, there is a network of canals for drainage of excess water in the fields when necessary and / or for their irrigation during dry periods.
There is a special well 350m deep with thermal (warm) water of 32°C which is planned to be used for prevention of spring frosts in the orchard. Some tests have shown that at a depth of about 500m the water temperature is around 50°C which could be used to heat greenhouses with early vegetable cultivation and other crops.
EBRD and Green Climate Fund have announced launching $US1.01 billion "High impact programme for the corporate sector" to finance "transformational shift within the energy-intensive industries, agribusinesses and the mining sector of Armenia, Jordan, Kazakhstan, Morocco, Serbia, Tunisia and Uzbekistan". GCF has "Low Emissions and Climate Resilient Agriculture Risk Sharing Facility" with long term loans up to 15 years, equity investment or subsidies to assist agribusiness. We anticipate any project in agriculture such as vegetable crops production in green houses with thermal underground water should be a prime candidate for long term finance under very favourable terms.
The irrigation system and drainage canals are of great importance because the climate is getting drier, the summers are longer with high temperatures. Agricultural land that has the possibility of irrigation will give higher yields and is normally worth more in the future than agricultural land that does not have the conditions for crop irrigation or drainage of excessive amounts of water caused by heavy rainfalls.
The forecasts are that this unfavourable trend can be expected to continue in the future. This can have far-reaching consequences. In 2012, a drought led to a decline in corn yields, which caused the appearance of aflatoxins in harvested corn. This toxin entered the food chain through animal feed into cow's milk and then on the supermarket shelves in Serbia.
The agricultural land owned by the company on offer is well equipped to cope with both heavy droughts and excessive rainfall. A well with hot water reduces the possibility of damage to orchards from spring frosts. All these factors reduce the risks of negative atmospheric influences on crops and fruit (drought, frost, heavy rainfall) and increase the value of agricultural land itself.
The offer
Our client is an institutional investor who bought this company several years ago. Large funds have been invested in improving production and expanding capacity. The area of agricultural land has also been significantly increased by purchasing peripheral plots. This additional purchase of plots is an ongoing policy of the company, and the new owner will be able to continue with such a policy, if he so wishes, in accordance with the Law on Agricultural Land (legal pre-emptive right of first refusal when owners of peripheral farmland offer their land for sale).
In addition to agricultural land, the company has other valuable assets. All agricultural land is registered with the Land Registry without mortgage and other encumbrances. The company has no financial or other liabilities. We offer 100% of the company's share capital on debt free cash free basis (DFCF basis).
Sale prospectus
We have prepared a detailed sales prospectus with information on business, financial results, assets and other relevant facts. Various documentation such as evidence of ownership of land plots, buildings and facilities, machinery, financial statements, contracts, etc... will be presented to potential buyers for review and analysis (buyer's due diligence).
SEECAP Consulting is the financial consultant of the seller. We are available for further information. Please contact us by email [email protected] by mobile phone/Viber/Telegram +381 63 377 960 or our office number +381 11 36 35 935 by clicking on the button below for additional information or for the sale prospectus.