REAL ESTATE PRICES IN SERBIA IN H1 2019
New statistical data has been released about the real estate price in Serbia and the state of the Serbian economy. We provide a summary analyses and presentation of the relevant data.
General information about the real estate market
The Mapping and Cadastral Registration Authority (RGZ) reported the transactional prices recorded during the first half of 2019. It recorded 47,000 real estate transactions in Serbia (48,000 transactions in the same period in 2018 or 2.08% less), but the value of those transactions increased by €200 million, from €1.6 billion to €1.8 billion.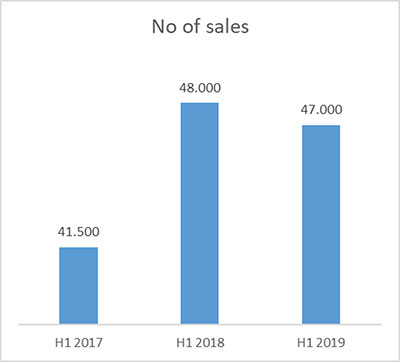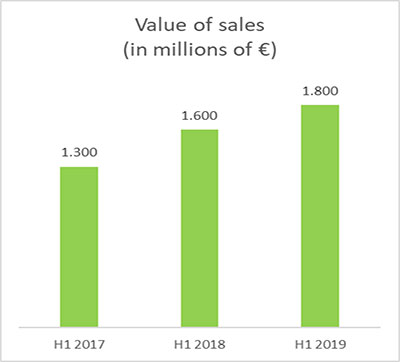 By type of real estate, the sale of apartments still dominates the chart, both by number of sales and in value of properties sold. What is interesting is the big jump in the turnover of other real estate, dominated by commercial real estate. The value of these properties jumped by 119.70% to €725 million. Investing in commercial real estate is becoming more attractive as it yields higher returns than investing in residential real estate. Returns on residential real estate range up to 3-4% while returns on investment in commercial real estate range from 8-9%, depending on the type of commercial real estate. You can read more about commercial real estate yields and returns further below.
Residential prices
Belgrade real estate market recorded residential properties sales worth €995 million or 19.88% more than in H1 2018. This is followed by Novi Sad with €194 million, Nis with €46 million, Pancevo with €25 million and Kragujevac with €24 million.
Residential real estate prices are constantly rising, both in the old and new developments sales. Cash buyers (65%) prevail over mortgage buyers (35%) in the purchase of apartments.
Prices for new residential developments increased significantly. The Old Town municipality tops the chart this year with 22.28% price rise (table below left). Real estate prices in some attractive locations in Belgrade can be seen from the table below right.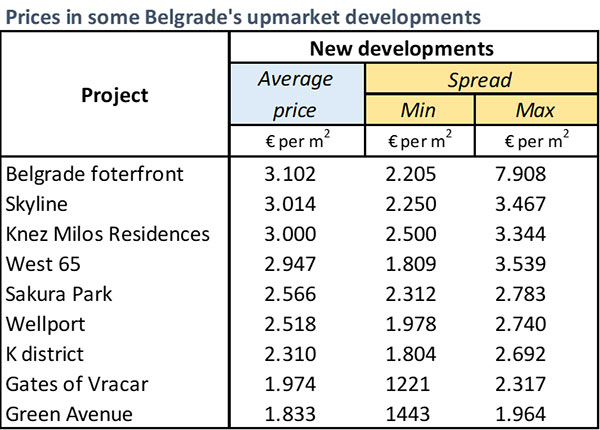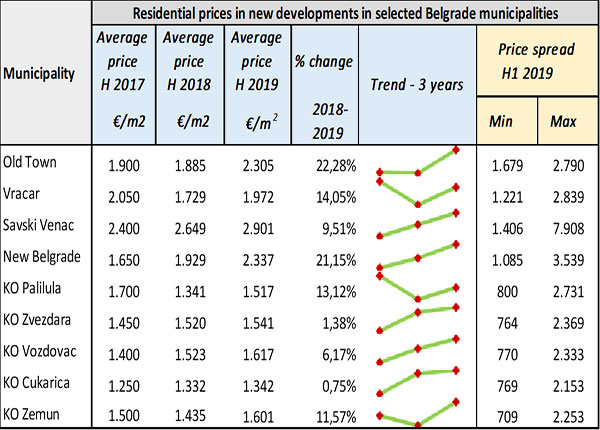 In the period January-September 2019 the Belgrade City authorities have issued building permits for development of further 600.000m2 of residential properties which will be delivered on the market over the next 2-3 years. Besides the favourable economic conditions and low interest rates, there are some other factors that drive residential market demand which are likely to sustain such demand for the foreseeable future
increasing number of first-time buyers, young people, mainly couples that are stepping up on the property ladder buying their first apartment,
low level of unemployment in Belgrade which is at about 10% and increasing standard of living,
influx of foreign cash buyers, the Serbian diaspora who are buying a second home in Serbia where they may retire and live comfortably on the foreign pension and life savings or foreign speculative investors, mainly in upmarket properties,
investors from the Serbian countryside that want to have a pied-à-terre in Belgrade or simply to park excess cash in property and preserve the value of their money,
huge investments in infrastructure and general improvement of living conditions in Belgrade by the Belgrade City authorities.
Office and retail space
The commercial office space is in good health too. Office rents and yields have been stable for some time now, as it can be seen from the chart below. There are new office developments coming on the market but most of them are leased to tenants before construction completion, hence the very low vacancy rate of 4,9%. The economy is doing well, high FDI in the real economy produces high uptake of the office space that is coming on the market. Total office space is about 810.000m2, vacancy rate 4.9%, yield 8.50%
There are about 285,000m2 of retail space in Belgrade or 168m2 per capita, which is a pretty low average value. An additional 150,000m2 is currently under construction. Yields are about 8% a year. Rents and yields have been stable for some time, as it can be seen from the chart below.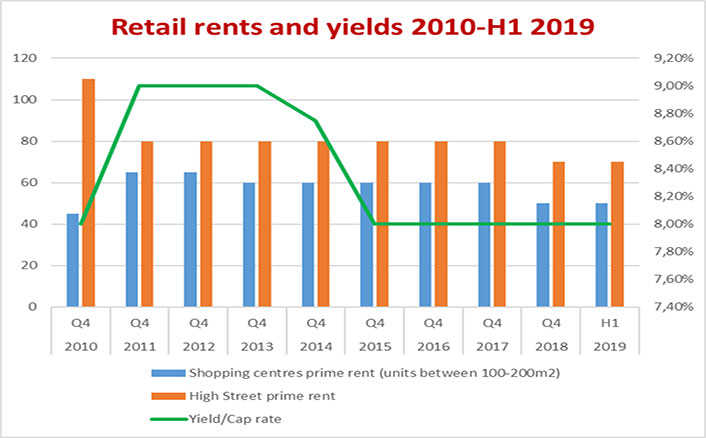 Comparative data-returns in various CEE capital cities
Compared to some capitals of other CEE countries, investments in Belgrade commercial properties deliver higher returns from some other CEE capital cities.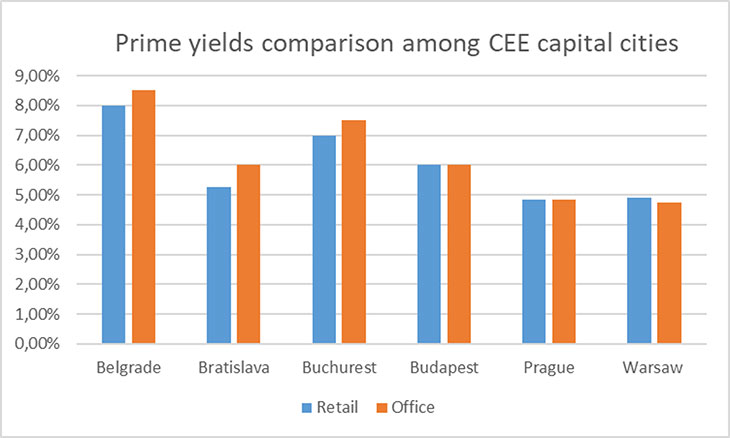 Macroeconomic and statistical data for H1 2019
GDP—in its semi-annual report for the first half of 2019, the Republic Bureau of Statistics announced that real GDP in Serbia grew by 2.5%. In May, the IMF forecasted Serbia's GDP of 3.5% in 2019 and 4% in 2020. Erste Bank forecasted in early September that Serbia's GDP will be 3.3% for 2019. The highest growth H1 2019 was recorded by the Construction sector with 16.8% growth followed by the Communications sector with 8.2%.
The unemployment rate is 12.1%. A significant part of this unemployment relates to the so-called. structural unemployment where, for the most part, older workers do not adapt to the new needs in the labour market so that there is unemployment on the one hand and high demand for certain profiles of workers on the other hand
One of the main factors of economic growth is that in recent years Serbia has managed to attract a significant foreign direct investment. The Ministry of Finance announced the FDI in H1 of 2019 amounted to €1.9 billion (US$2.1 billion), a 31% jump over the same period last year. In August 2019 Serbia came on the top of the Financial Times Greenfield FDI Performance Index 2019. In 2018. Serbia received 107 FDI projects, mainly in automotive components, food and tobacco, textiles and real estate.
Inflation was 2.8%,
Foreign exchange reserves stood at €12.14 billion.
The exchange rate between the local currency Dinar and Euro and USD is stable, the average Dinar:Euro exchange rate was 118,23, Dinar:US$ 104,06.
Credit Rating - Moody's Ba3 / stable, Standard and Poor's BB / positive, Fitch BB / stable
In foreign policy orientation, Serbia is still striving for EU membership. So far Serbia has opened 17 Chapters her pre-accession negotiations with the EU. Interestingly, on August 15, 2019, Serbia became a member of the Asian Infrastructure Investment Bank (AIIB). It was also announced that Serbia would sign a free trade agreement with the Eurasian Union on October 25, 2019 so that it will have free access to the markets of this trading block of about 180 million consumers. Due to increasingly pronounced economic and political realignments in the world (slowing world economy, Brexit, US-China economic war, economic integration between China and Russia, de-dollarization of world trade, etc.), the Serbian Government seems to be pursuing a policy of keeping all options open.