PROPERTY PRICES IN SERBIA IN H1 2018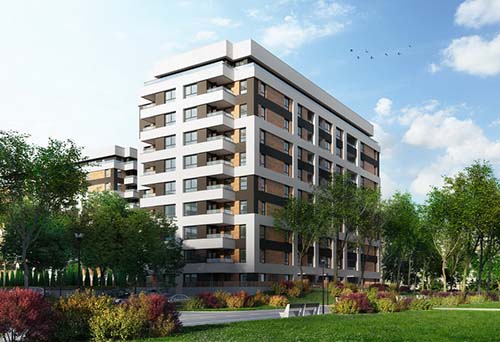 New statistical data was reported in early September 2018 about the Serbian property market and Serbian economy. We present the relevant data.
General
There were 48.000 real estate transactions in H1 2018, up 15% in comparison to 41.500 in H1 2017. The total value of all transaction vent up by 23%, from €1,3 billion to €1,6 billion
Residential
The Belgrade real estate market recorded the total transaction value of €775 million in H1 2018. In most municipalities the market was buoyant with the largest price increase recorded in New Belgrade and Cukarica of 8%. New Belgrade is becoming very attractive because of the commercial office and shopping mall developments, so that people can work, shop or live without having to commute large distances. New Belgrade also has a range of leisure and entertainment facilities.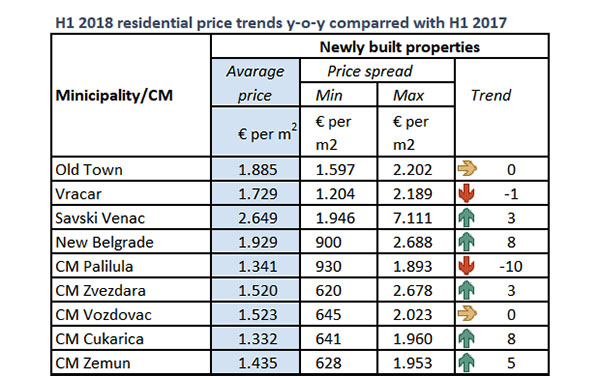 Source: Mapping and Cadastral Registration Authority (RGZ)
The highest price of an apartment was recorded in the Belgrade Waterfront development of €1.124.888 or €7.866 per m2. Below is the table showing the sale recorded prices of some attractive developments in Belgrade.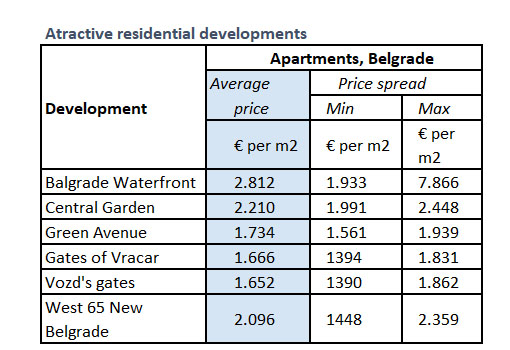 Source: Mapping and Cadastral Registration Authority (RGZ)
On 16th September 2018 the Statistical Office issued its findings about the property prices in Serbia for H1 2018. For the entire country, in H1 y-o-y the property prices went up by 7,7% expressed in Euros. In the same time, the property prices in Belgrade increased by 7,9%.
Offices
For the completeness of this report we show below CBRE data reported for Belgrade prime office space in H2 2018.
Total Stock 770.000 m2
Vacancy Rate 4%
Rents €15.5-€16,5 pm2
Prime yields 8.50%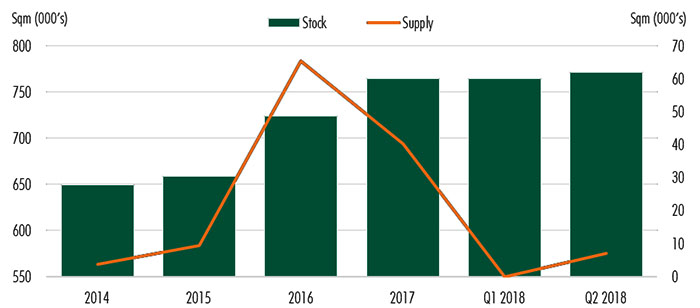 Source: CBRE, Q2 2018
General statistical data – H1 2018
Serbian Statistical Office reported that the Serbian real GDP grew 4,9% in H1 2018. The largest growth of 22,9% was recorded in the Construction Sector. The leading Serbian economic think-thank "Quarterly monitor" forecasts GDP for 2018 at 4,3% and 3,5%-4% for 2019. The growth was the result of Serbia's ability to attract significant foreign investment (see the chart below) which led to higher employment too.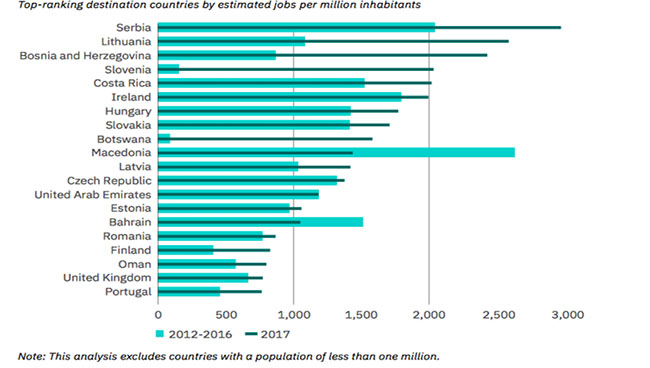 Inflation for the period august 2017-august 2018 was 2,6%. For the period January-August 2018 the inflation rate was 2,2%.