PROPERTY PRICES IN SERBIA IN 2020
MARKET, TRENDS AND YIELDS ON INVESTMENTS IN REAL ESTATE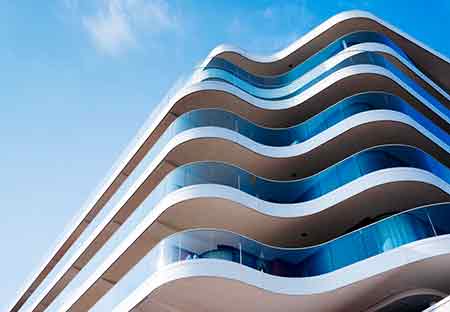 Despite the Covid 19, the real estate market in Serbia in 2020 continued with a constant growth, which started in 2016. Following some confusion and all out denial of the existence of Covid 19 at the end of February 2020, on 16th March 2020 the Government introduced a very strict lock down which eased up at the end of May 2020. During this period the property transactions plunged to a record low but quickly recovered, particularly in Q4 2020 when the property transactions hit the historic high level.
During the lock down many non-essential Governmental office workers as well as private companies switched to work from home. This caused a change in purchase pattern of residential homes as many buyers opted to purchase secondary homes, standalone houses commonly called "weekend house", in green areas, woodlands or alongside riverbanks up to 2 hours drive from the city centres. The developers in some of the mountain resorts such as Kopaonik, Zlatibor, Divcibare etc also experienced surge in property sales. In some of these resorts, the property prices increased by up to 10% because of the high demand.
Two additional factors which propped up the real estate market (with a bit of hindsight at the time of preparing this analysis, early April 2021) is the Government's subsidies to companies and financial help to population and early programme of Covid 19 vaccination. The Government was able to secure vaccines from various manufacturers Sinopharm, Sputnik V, Pfizer and AstraZeneka. At one moment Serbia held 3rd place globally by the percentage of vaccinated population. For more information we recommend "The positive side-effects of Serbia's regional vaccination campaign."
Here we analyse residential and commercial property market. For more information about farmland prices, please visit our web page "Agricultural land in Serbia-prices and trends".
Value of the real estate transactions in 2020
The total value of transactions on the real estate market in Serbia in 2020 amounted to € 4.2 billion. This is a small but significant jump in value of 2.44% due to the Covid-19 pandemic compared to 2019. A comparative comparison of market value and number of transactions in the previous few years is shown in Table 1 below. The highest value of sales is in Belgrade, about 50% of the total market. Then follows Vojvodina and then other parts of Serbia, which can be seen from Table 2.
In the total volume of sales, by type of real estate, apartments dominate, which can be seen from Table 3 below.
Belgrade
The market is dominated by the sale of apartments, by the number of sales and by the total value of these sales. During 2020, a total of 39,166 apartments were sold, which is 5.90% less than in 2019, when 41,621 apartments were sold. In 2019, 8,684 garages or garage spaces in residential buildings were sold, and in 2020 that number was 9,414, which is 8.41% more.
You may see the sale of apartments and garages by their values in different regions of Serbia from Table 4 below.
The total value of apartments sold in Serbia in 2020 was € 2.32 billion, and garages € 81.5 million. Apart from the number of real estate sold, Belgrade also dominates in the value of apartments and garages sold with € 1.42 billion of apartments sold and € 66 million of garages sold. What is interesting in comparing the value of sold apartments by years, is the increase in the value of sold apartments and garages outside Belgrade, which is a good indicator that the real estate market is developing rapidly in other cities in Serbia. The largest increase in the value of sold apartments was in Sumadija and Western Serbia with an increase in the value of sales of apartments of 13.28% and garages of 17.34%.
Apartment prices-statistics
Table 5 shows the average prices of old apartments in Belgrade in the previous 3 years as well as the statistics for 2020. The largest price jump was in Zemun of 8.87%, which fits into the trend we highlighted above in this analysis that many buyers, because of Covid 19, began to buy apartments on the outskirts of larger cities.
The biggest jump in prices in newly constructed apartments is in Cukarica of as much as 25% and then in Old Town 16.48%, Table 6. Cukarica is not regarded as a part of Central Belgrade, and the highest price increase in a peripheral part of Belgrade feeds into the trend of many residential property buyers moving out of the central parts of Belgrade.
Prices in the most exclusive residential real estate developments in Belgrade and Novi Sad, the second Serbian largest city, are shown in Tables 7 and 8.
Tourist destinations
A high increase in apartment prices was also achieved in, especially mountain tourist destinations such as Zlatibor, Kopaonik or Divcibare. Zlatibor and Kopaonik are still the most popular destinations which can be seen from the prices of apartments in Table 9 below. The increased number of residential developments are built on the condo hotel concept with rental in mind when the owners are not using the property. Such developments are operated, maintained and managed by management companies which provide various services to the owners.
How the buyers paid for the purchased real estate assets
According to the RGZ real estate was mostly paid in cash, staggering 86%. 99% of all purchases of land (construction land, agricultural land) was settled in cash. The purchase of 67% of apartments was paid in cash, and only 33% from borrowings/mortgages, which, if we compare with other European countries, is a very high percentage of cash payments. However, the share of credit buyers compared to the cash buyers increased by 5% in 2020 compared to 2019.
Commercial real estate
The available office stock is growing from year to year, but the demand for it is also growing. The monthly rental level of prime quality offices has been stable in the previous 5 years at around €16 per month per square meter. In 2020 the vacancy rate went up to 7%, slightly higher than in previous years, which can be seen from Table 10. Service charges are not included in the rent and added to it. All rents are set and paid in Euros, so there is no currency risk involved.
The situation is similar with retail space. Larger shopping centres are being built more and more, but the demand for renting space in them is also increasing, so that rental prices are stable as well as rates of return on invested capital, Table 11.
It is too early to draw conclusions about how the changed habits of increasing work from home and online shopping will affect the business space in Belgrade. The Covid 19 pandemic is not over, we may have some indications of further real estate market developments after analysing the semi-annual data in 2021 in September 2021 when it becomes available.
Sources of our data:
For our analyses we have used various sources of data as well as our own research.
Republic Geodetic Authority (RGZ/RGA) is a public body set up by law for conducting professional geodetic and administrative tasks in the field of state survey, land cadastre, real estate and utility cadastre. It hold the records of all recorded properties in Serbia and maintains such records. It records all property transactions and publishes statistical data about property transactions. This is the most reliable data source for analysis of the property market in Serbia.
Another reliable data source is the National Corporation for residential mortgages insurance, also a public body which operates like Freddie Mac in the US. It maintains Residential Prices Index since its incorporation in 2007.
We also used publicly available surveys and analyses by some market participants such as JLL, CBRE
and, of course, SEECAP research and analysis.