PRIVATE HEALTHCARE IN SERBIA:
IN THE MODE FOR GROWTH AND CONSOLIDATION
About Serbia
Serbia is one of the six constituent republics of the Former Yougoslavia. It is now an indepentdent country that occupies the central parts of the Balkan Peninsula.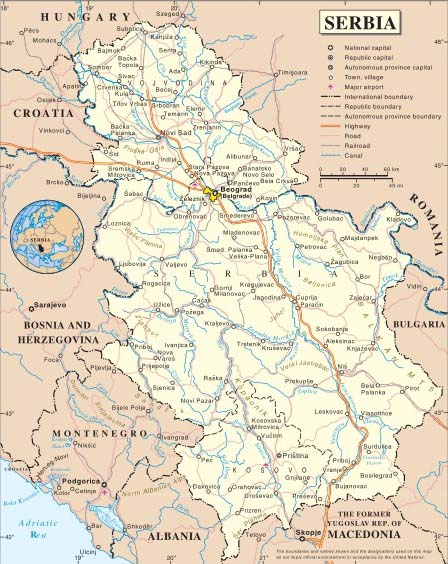 | | |
| --- | --- |
| Form of Government | Parliamentary Republic |
| Territory | 88.361 km2 |
| Capital city | Belgrade, the largest capital city between Vienna and Athens |
| Population | 7,040 million |
| GDP per capita (2017) | €4.971 |
| GDP growth rate | 3% in 2017, forecasted 4,3% in 2018 and 3,5-4%% in 2019 |
| Currency | Serbian Dinar (RSD), Euro is widely used in transactions or as a referral currency |
| Credit rating | Moody's – Ba3/stable since March 2017; Fitch – BB/stable since December 2017; S&P - BB/stable since December 2017 |
| EU Accession | Serbia is an EU candidate country since 1st March 2012. So far it has opened 16 EU accession chapters; The European Commission issued a policy paper on 6th February 2018 stating the year 2025 as the goal for Serbia to join the EU |
| Political stability | Serbian Progressive Party (SNS) won the general elections in 2012 with overall majority, it has been to the pools several times retaining and/or winning majority at every subsequent election. President Aleksandar Vucic won his five-year presidential mandate in 2017 and SNS is likely to govern Serbia for this and another term |
Life expectancy for both sexes is slowly increasing and in 2017 the average life expectancy was 75.4 years, men 73 years, women 77,9 years.
Population in Serbia suffers from the same or similar causes of illness as in other parts of Europe with difference caused by cultural and social heritage and the general wealth of the society (Burden of Disease). The Burden of Disease is beyond the scope of this article. The highest individual expense is for the treatment of cardiovascular diseases and in 2016 it amounted to 18% of all healthcare costs.
Quick overview of the Serbian healthcare system
The Serbian Healthcare System is based on the Bismarck Model with certain modifications. Yugoslavia was a middle-income country which offered to its citizens a solid healthcare protection based on the principles of universality and solidarity of healthcare for all. The same principles are still in the foundations of the Serbian public healthcare system. However, because of the civil war and the Sanctions during the 1990's the public healthcare system is less able to deliver the desired level of universal healthcare for all. Nowadays the public healthcare system is supplemented with ever growing private healthcare system.
In 2017 all healthcare expenses amounted to 8,8% of Serbia's GDP. 57,5% of the expenses was finances out of the public sources while 42,5% out of the private sources. The largest participation of the healthcare cost of 10,09% in the GDP was in 2010. Comparative data of 2010 and the previous three financial years is provided in the table below.


The healthcare costs in absolute terms in the last 3 years is shown in the table below.


Publicly funded is all healthcare spending funded by public sources such as the Republic Healthcare Insurance Fund, local community transfers to locally financed healthcare institutions or Government payments for some insured categories of population such as unemployed receiving unemployment benefits, refugees etc.
Privately funded sources include out of pocket payments for private healthcare, voluntary insurance schemes, out of pocket participation in the Public healthcare sector, out of pocket payments for drugs and medical devices. In essence, 42,35% of the total healthcare is financed directly out of pocket, which is one of the highest such funding in CEE.

The healthcare cost per capita is on the increase in absolute amounts as well as in the comparable Power Purchasing Standards, as shown in the table below.
The public healthcare system ("SHS")
The Public healthcare system was built prior to 1990's. Post 2000, the successive governments have focused on recovering the public healthcare system from the disastrous 1990's. Investments have been made into new equipment and improvement of the working conditions for doctors, nurses and other employees as well as for the patients. Also, some new facilities have been built such as the Clinical Centre in Nis or the existing ones have been reconstructed and/or refurbished, some a loan from the European Investment Bank.
Public healthcare institutions

| Type of institution | No |
| --- | --- |
| Primary healthcare centres | 158 |
| Institutes | 22 |
| General hospitals | 41 |
| Special hospitals | 34 |
| Clinical-hospital centres | 4 |
| Clinical centres | 4 |
| Clinics | 7 |
| Medical institutes | 16 |
| Public health institutes | 25 |
| Military healthcare institutions | 4 |
| Total | 315 |
In 2017 the Public healthcare employed a total of 101.853 people. About 25% or 24.979 were with university education, 9.785 with higher education and 45.399 were with secondary education, out of which 31.341 were nurses. The total number of hospital beds in 2017 was 41.654 or 5.9 beds per 1,000 population.
Health care at the primary level is provided by primary health centres, which cover the territory of one or more municipalities or towns. A primary health centre provides preventive health care for all categories of population, emergency care (ER), general medicine, health care of women and children, visiting nurses service, as well as laboratory and other diagnostics. Primary health centres also provide prevention and treatment in dentalcare, occupational medicine and physical medicine and rehabilitation.
Primary health care in the primary health centres is provided by a chosen doctor, a personal doctor selected by the patient who is either a general practitioner (GP) or a specialist in general medicine, or specialist in occupational medicine, paediatrics, gynaecology or dentist, as needed.
Apart from primary health centres, the primary level activities include institutes, which are health institutions providing primary health services and health care to specific population groups, such as: institute for student health, institutes for emergency medical care, gerontology, dentistry, pulmonary diseases and TB, and institutes for skin and venereal diseases, as well as pharmacies which carry out pharmaceutical health care activity.
When a patient requires a more specialised treatments, he/she is referred to secondary and tertiary level of healthcare-general or special hospitals, clinics or other institutions.
The private healthcare sector ("PHS")
The Private healthcare sector originates from the chaotic 1990's when, because of the UN Sanctions, the public finance almost collapsed, and the public hospitals and clinics functioned in dire conditions. In such conditions, flexible and more versatile private sector healthcare surgeries and laboratories commenced offering services for out of pocket payments for their services.
The growth continued in the new millennium to sizable proportion. According to the Institute for Public Health Batut, the private healthcare system in 2017 operated 55 hospitals, 1927 non-hospital, mainly primary healthcare institutions (excluding dental practises and pharmacies), 136 laboratories and diagnostic centres and 4 disease prevention centres. Out of 55 hospitals, there are 9 general hospitals, 4 psychiatric hospitals, 34 various special hospitals and 7 hospitals for rehabilitation.
Out of 1927 non-hospital institutions, 137 are multidisciplinary institutions offering a range of services, 79 practise general medicine which the largest number of 588 specialise in certain medical fields such as ophthalmology, orthopedy, pulmology, cardio-vascular diseases, podiatry etc.
In 2017 the private healthcare sector employed a total of 7.239 people. There were 2.296 doctors, 2.950 nurses and medical technicians and 1.431 non-medical stuff. PHS also engages on part time basis consultants that work for the SHS. It is estimated the number of so engaged consultants exceeds the number of permanently employed doctors by 75%, or about 6.500 consultants or on average about 5 consultants per institution.
The number of hospital beds in PHS in 2017 was 921.
Healthcare financing
The SHS is financed primarily through the Republic Health Insurance Fund while the PHS is finance mainly with out of pocket payments with a growing role of finance from the voluntary insurance schemes set up by insurance companies.
Public healthcare system financing
The Public healthcare system uses an insurance system for collection of finances which are paid into a single "sickness funds" which subsequently uses so collected financial resources for the healthcare of the insured beneficiaries. The insurance "sickness fund" in Serbia is set up by law and it is called the Republic Health Insurance Fund (the "Fund" or "RHIF"). The Fund is financed jointly by employers and employees through payroll deduction called health insurance contribution.
The health insurance contribution is payable by the employed, self-employed and by farmers with registered farms. In addition, there is a possibility for voluntary payment of the national health insurance by other categories of population, for example, a Serbian citizen living abroad may pay health insurance for himself and/or his family in Serbia. The national insurance contribution payable by both, the employee and the employer at the rate of 5.15% each (or 10.30% in total) calculated on the gross salary of the employee.
The Bismarck Model is modified since certain categories of population who do not pay the health insurance contribution such as unemployed or refugees, but they enjoy the healthcare cover payable by the Government out of the collected taxes.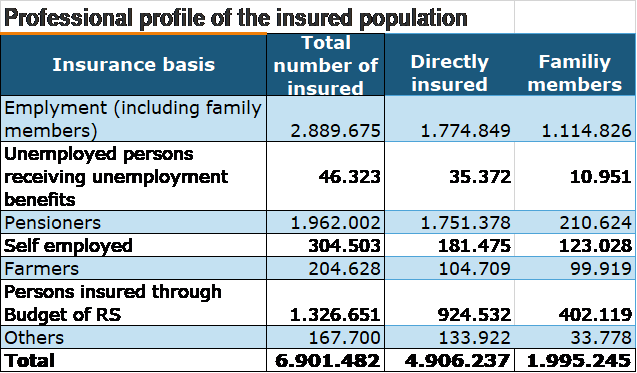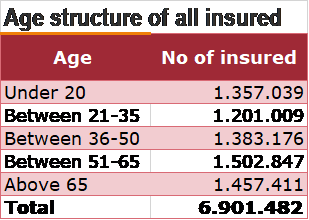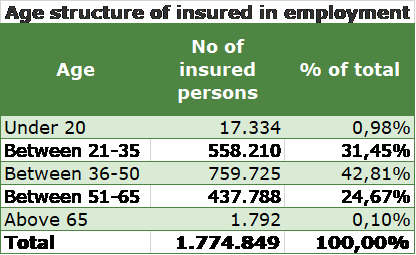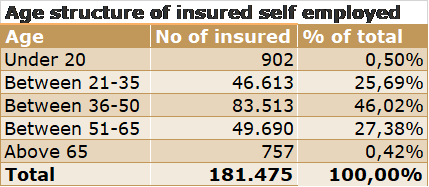 RHIF provides healthcare cover for 6,9 million beneficiaries out of the entire population of about 7,040 million people.
RHIF's annual budget is huge, which can be seen from their consolidated P&L accounts in the previous 3 financial years, as shown in table below.


RHIF does not pay for patient treatment in private healthcare institutions except in limited circumstances when the public healthcare system is not able to provide the required service within 30 days. Such payments are limited to diagnostics and laboratory analysis, colonoscopy, gastroscopy, x-rays and similar minor treatments. RHIF would not pay for any treatment for treatments for which there is established waiting list such as surgical operations, heart bypass, cataract, hip replacement or similar, more expensive treatments. Procedurally, the patient would have to obtain confirmation from the public institution that he cannot be treated within the time limit of 30 following which he can have the same treatment in the private healthcare institution, pay for it out of the pocket and apply for the refund. There were 1.060 such refunds in 2017 (Davidov-Kesarsreda, 12/09/2018). Many people consider the procedure too bureaucratic and cumbersome and do not bother to claim the refund.
Private healthcare system financing
Unlike the SHS, the PHS is mainly financed with the out of pocket payments of the consumers of their services. There is growing segment of voluntary healthcare insurance policies offered by life insurance companies. The RHIF's Refund scheme is negligible.
Private healthcare insurance
In addition to the national health insurance, there is private or voluntary health insurance which is offered by various insurance companies such as Uniqa, Triglav, Generali, Wiener Stadtische, Dunav Insurance. The level of protection varies depending on the scheme or insurance packet purchased by an individual or by corporations for their employees. The purchased packet allows the beneficiary to receive medical care in both the publicly-owned healthcare facilities or in private hospitals and clinics and it is linked to the insurance packet purchased.
In 2017 the total amount of private health insurance premiums was €24.4 million (US$ 29.1 million). The share of health insurance in all insurance premiums, life and non-life, went up from 2.5% in 2016 to 3.1% in 2017. More importantly, nominally, the health insurance premiums grew by 28.3% y-o-y compared with 2016. In H1 2018 the total amount of private health insurance premiums was €18.56 million (US$21.65 million) or 4.2% of all insurance premiums collected. Nominally, the health insurance premiums grew by 21.9% y-o-y compared with H1 2017.
The main obstacles for further growth of the voluntary health insurance is the general wealth of the nation and the absence of any tax or public health contribution payment relief to those who pay voluntary health insurance. However, despite these obstacles, we note that the amount of collected premiums grow much faster than the GDP and it is likely to continue unabated. The most frequent users of the voluntary health insurance is the middle class living in larger cities in Serbia. For a monthly premium of €15-€60 they can receive a solid healthcare in either private or publicly-owned institutions.
Private healthcare system in consolidation and growth mode
As it can be seen from the above data, the private health system is very fragmented and dispersed. It is ripe for consolidation that will create larger and financial more capable institutions that will be able to offer more and higher quality services that includes medical services and procedure that is up to now reserved for top hospitals in the public sector. Such consolidating has already started.
The three dominant healthcare providers that have established in the market are Bel Medic, Medigorup and Euromedic. In 2017 Bel Medic, Medigroup and Euromedik had combined earnings of €48.360.150, on average up by 27,20 % in comparison with their combined earnings of €38.020.385 in 2016. Most importantly, their individual earning figures show healthy growth, as shown in the table below.


Bel Medic-is one of the oldest private healthcare supplier. It was set up in 1995 and today it has one general hospital, one policlinic, two primary health centres and a catering business. It operates from 5 locations, employs 353 people and engages a number of outside consultants. It grew organically. It has contracts with a number of local and international voluntary health insurance companies such as BUPA, Allianz, AXA, MetLife etc. Its consolidated income in 2017 was €12,34 million. They are looking for further growth and expansion.
Medigroup-grew through mergers and acquisitions. It was started by a Luxembourg registered private equity fund Blue Sea Capital in 2013. It acquired and consolidated under the brand a number of complementary practices. Now it has 14 different medical institutions which employ over 800 people and also engages about 800 consultants in different field of medicine. It is well equipped with some state-of-the-art medical equipment. In March 2018 the London based private equity fund Mid Europa Partners acquired majority 55% stake in Medigroup. It 2017 Medigroup's income was €23, 52 million.
Euromedik-started in 2002. It operates from 6 locations in Belgrade offering a range of services. It directly employs about 200 doctors and other medical experts and engages at least the same number of outside consultants. It boasts a state-of-the-art medical equipment in which it has invested heavily over the last few years. It earned €12,49 million, very similar to Bel Medic, but its growth rate almost doubled the growth rate of Bel Medic (29,39% and 16,48% respectively).
Belgrade healthcare market is fairly covered now. The market players will have to search for market expansion in the Serbian countryside, in second cities such as Novi Sad, Nis or Kragujevac, to come closer to the client base. Setting up new surgeries or policlinics is one of the possible solutions, acquisition of or merger with the existing local healthcare providers is the other one. So far, the meteoric rise of Medigroup shows that the growth through mergers and acquisition proved to be more efficient from the organic one. Medigroup has already moved in that direction by setting new medical facilities in the Serbian second largest city Novi Sad and in Podgorica, the capital of Montenegro.
Where the further income growth is going to come from?
Local population-rising personal income, voluntary healthcare insurance and the desire to have reasonably good healthcare in a comfortable environment which one can book in 24 hours instead of being on a month-long waiting list for general treatment or on a few months long waiting list for more specialised care will drive more customers towards the private health care. We believe the primary client base for the private healthcare growth in the pool of employed and self-employed people age between 21-65 years and their family members. From the data presented above, such pool of customers is about 3,5 million.

Health tourism-is another source of future growth, which is going to come from:
patients from the neighbouring countries such as Bosnia, Montenegro, Macedonia, Albania who are used to seek excellent medical care in Belgrade since 1980's. Belgrade has some excellent medical facilities which were available to the beneficiaries of the Yugoslav national health system. Nowadays, in increasing number of patients from the former Yugoslav republics use private health facilities in Belgrade which they cannot find in their home countries;
Serbian diaspora living abroad- private health facilities in Belgrade offer excellent medical services for a fraction of the price for the same services in Western Europe or USA. A significant number of Serbian diaspora living in the EU or USA choose to have medical treatment in Serbia instead at their country of residence-from dental treatment to more complicated procedures;
other clients coming from the EU, USA and other countries- an increasing number of EU patients are treated in Serbia because of the high quality care for a fraction of the price in their home country. This also applies to the medical rehabilitation from illness, medical treatment or other causes suffered at home, which is usually carried out in health centres with mineral water rehabilitation (destination health spas).
Conclusion
The above analyses leads to some interesting conclusions about the private healthcare system in Serbia:
income grows from year to year at a rapid pace, much higher than the inflation, as a result of continuing investment in and expansion of the private healthcare,
the value of the voluntary health insurance is also rapidly growing which will fuel further growth of the private healthcare sector,
the three largest healthcare providers, Medigroup, Euromedik and Bel Medic recorded a high income growth, in 2017 the combine average was 27,20%,
Medigroup has made a stunning success in 5 years through merger and acquisition of a large number of compatible businesses and is now sitting on the top as the largest private healthcare provider. The other two groups grew organically since 1990's,
the competition is likely to intensify and the leading healthcare will move out of Belgrade to cover some other cities (as Medigroup has already started). The expansion may be through organic growth by setting up own medical practices or by merging with or acquiring the already existing medical practices. The success of Medigroup shows the latter method, growth thought M&A to be more successful. Such expansion will require financing from outside sources, debt and equity, which, we believe should not be much of a problem because of the increasing interest for such investments and financing.