ZORAN MITIC CHIA
About CHIA Certificate
SEECAP director Zoran Mitic has passed the CHIA exam on 21st April 2022. CHIA stands for Certification in Hotel Industry Analytics. This is the only certification for hotel and tourism industry professionals focused on analytics.
The CHIA Certificate is offered globally through a joint effort between the AHLEI (American Hotel & Lodging Educational Institute) and the world renown Hospitality Industry analytical and benchmarking firm STR.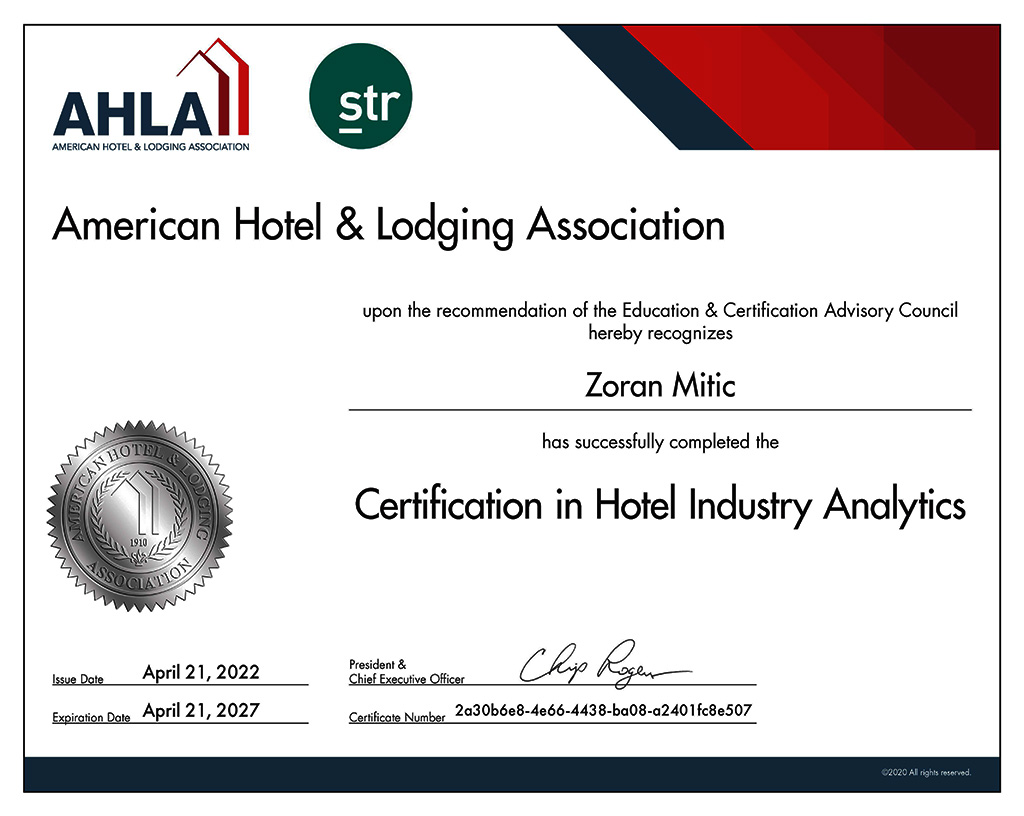 AHLEI describes this Certificate as "evidence of a thorough knowledge of the foundational metrics, definitions, formulas, and methodologies that are used by the hotel industry. Recipients have proven that they can "do the math" and interpret the results to identify areas of improvement. They have demonstrated an ability to analyse various types of hotel industry data and to make strategic inferences based upon that analysis. Certification also confirms a comprehensive understanding of benchmarking and performance reports. Achieving this distinction announces that Certificate holder has a place among the best professionals in the hotel industry".
The curriculum of the Exam is based on four core areas:
Hotel Industry Analytical Foundations
Hotel Math Fundamentals – the metrics used by the Hotel Industry
Property Level Benchmarking with STAR Reports
Hotel Industry Performance Reports (Trends, P&L, Pipeline and Destination Reports)
CHIA Certificate is important for SEECAP clients
SEECAP offers a wide range of hospitality services:
Hotel finance for hotel construction or purchase
Privatisation and financing destination spa facilities (sanus per aquam)
Sale and purchase of hotels, destination spa centres and similar hospitality facilities
Additional knowledge and analytical skills acquired through CHIA Certificate will enable SEECAP to offer to its clients highest quality of services in Hospitality.